Breaking standard operating procedure here and not doing Taste Test Thursday this week. Please forgive us. We were caught up in cookie baking mania this past weekend. And if you haven't started your holiday baking yet, well, we hope this post will inspire you!
I've culled the interwebs, searching all of my favorite blogs, to bring you this visual feast of sugar overload. If Santa were to plop his jolly little tush down in front of this sweet smorgasbord he'd never fit down the chimney.
So pour a big glass of milk and enjoy!
Smores Cookies from The Keenan Cookbook
Jumbo Chocolate Crinkles from Crepes of Wrath
Chocolate Fudge S'mores Thumbprints from How Sweet It Is
Chocolate Biscotti with Sliced Almongs from Fran's Favorites
Mini Christmas Oreo Chessecakes from Gingerbread Bagels
Chocolate Marshmallow Pops Three Ways: Candy Cane, Heath Bar & Coconut from Cookin' Canuck
Snowflake Peppermint Bark from Baked By Rachel
Cinnamon & Sugar Crackers from A Cozy Kitchen
Shortbread Cookies from The Keenan Cookbook
Peppermint Fudge from Miss In The Kitchen
Chocolate Crinkle Cookies from Thursday Night Baking
Mint Chocolate Chip Meringues from Keep It Sweet
Snickerdoodles from Thursdany Night Baking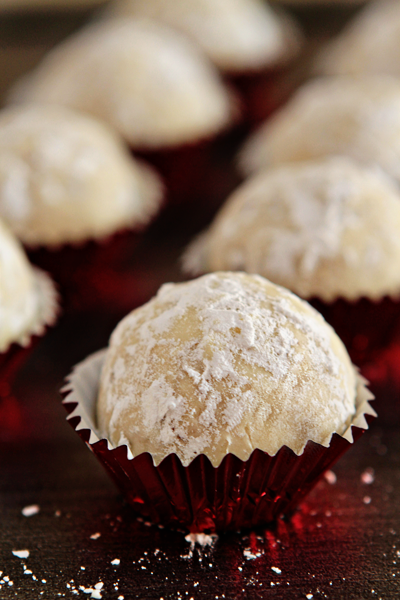 Snowball Cookies from My Baking Addiction
Mini Butterscotch Cream Pies from Lauren's Latest
Chocolate Raspberry Cookies from The Keenan Cookbook
Snickerdoodles from Chip Chip Hooray
Dark Chocolate Base Cookies from Cookistry
Cranberry Pecan Biscotti from All Day I Dream About
Kokosbollar-Chocolate Truffles from Cake Duchess
Basil Lime Cookies from Big Fat Baker
What is your favorite Christmas Cookie?
Share a link in the comments below!